Global Recognition for Local Tennessee Business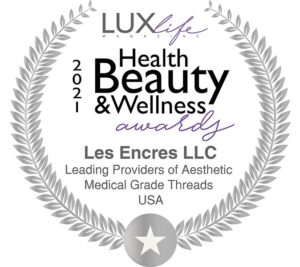 East Tennessee-based business named as the Leading Provider of Cosmetic Threads in the United States.
Les Encres Threads, based out of Lenoir City, Tennessee is thrilled to be recognized as the leader in Cosmetic Threads.  Minimally invasive and able to target a vast array of treatment areas, Threads are an excellent alternative to a face lift.  Using material that dissolves over time Les Encres Threads leave skin looking healthier with fewer fine lines and wrinkles!
This 2021 Health & Beauty award was bestowed by LUXlife magazine, a premium global lifestyle publication on June 22. Les Encres Founder and CEO, Stacey Reynolds believes "this honor will help shed more light on not only the benefits of thread treatments but also the explosive growth of East Tennessee and its business-friendly landscape.  Les Encres relocated from the upper mid-west two years ago, and we could not be more proud to call East Tennessee home.  The people, the surrounding communities and the available talent here are high contributors to our amazing success."
Cosmetic Threads are a great alternative to surgical intervention for some, and with many can help to restore the skin's natural beauty without threat of scarring and discomfort. A traditional face-lift can of course be beneficial in its own right, but Les Encres wishes to be the company that gives aesthetic patients a new option that involves far less pain, without the invasive nature of lasers, dermal fillers or incisions. A cosmetic threading procedure offers mirror-like effects matching those of the latter treatments without the added pain and hassle! Les Encres threading can also be used in conjunction with existing treatment modalities, giving results for treatment areas such as forehead lines, crow's feet, acne scars, bunny lines, and marionette lines, among many others.
"We look forward to our continued growth and ability to help support our local communities,"  said Reynolds.  To learn more about Les Encres Threads, visit www.lesencres.com. 
To find out more about the prestigious Health & Beauty awards and the other dedicated establishments that have been selected for them, please visit https://www.lux-review.com/awards/."